---
By Gary FukushimaINovember 15, 2022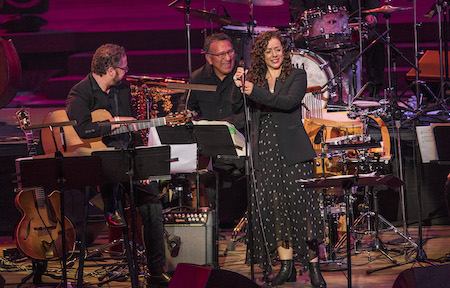 Luciana Souza looked at the large crowd that filled the amphitheater, waved at the big band behind her, and proclaimed, "You'll never see that band on the same stage again."
She may be right, but no one had ever seen this group before that night either, making it a singularly historic event for those gathered at the Ford, a 1,200-seat open-air venue built on the same hill as his tallest, most famous. brother, the Hollywood Bowl.
Souza, one of the most celebrated Brazilian singers in recent memory, was backed by a jazz ensemble led by composer-arranger (and five-time Grammy winner) Vince Mendoza, filled with a who's who of local luminaries jazz: trumpeter Wayne Bergeron, saxophonist Bob Sheppard, guitarist Larry Koonse, bassist Darek Oles, percussionist Alex Acuna and drummer Peter Erskine, to name a few. Perhaps all of the aforementioned elements are not as well known to the rest of the country and the world, but they are rightly revered by colleagues, students and fans in the City of Angels, where almost the entire group resides, including Souza and Mendoza. Despite all the grandeur and pomp of the gala concert, it still felt like a family affair, a kind of reunion. An opportunity for everyone to recognize that their home team is also a star team.
It was the opening night of the Angel City Jazz Festival (October 21-November 5), the annual fall three-week saturation of innovative jazz music throughout Los Angeles. And the details of the evening revealed a significant shift in how the festival has altered its vision in the 12 years since its inaugural season in 2010. "When we started," said Rocco Somazzi, the founder and producer of the ACJF, "We wanted to do all the artists from out of town, because we thought the city needed more exposure to that kind of music. But gradually we realized that there were many great artists who already lived here or had recently moved here, and now we also want to show people the best LA has to offer.
Much of the music that night came from Souza's 2020 collaboration with Mendoza, Storytellers (Sunnyside), recorded in Germany with the WDR Big Band Cologne. Mendoza was able to complement Souza's warm, clear vocals with equally inviting and compelling arrangements, often incorporating his vocals as part of the full ensemble. The closer encore, "Choro #3", featured Acuna with a brilliant solo intro on a myriad of percussion instruments, and showcased Souza's patented ability to sing endless meandering unison lines with the guitar, also doubled by the woodwind section, saving for the end the most intricate and intricate piece of the evening.
And it was just the first of what was to be 13 different shows across eight nights of music over three weekends in October and November. This writer did his best to see as many as he could, eventually hitting six nights and nine of 13 sets. The following is a brief diary of the experiment.
The World Stage, Leimert Park's community jazz space founded in 1989 by drummer Billy Higgins, was packed with people clamoring for a rare chance to see free-jazz icon David Murray. The saxophonist unleashed a relentless cavalcade of sonic, joyful fury, punctuated by techniques extended to the treble and bass extremes of the horn. He drifted easily in and out of double time, jamming and obscuring the beat with the help of bassist Roberto Miranda and drummer Malachi Whitson. The coup de grace was a final cadenza, a dizzying deployment of rapid multi-phonics that seemed to make the piece vibrate.
The following weekend began early on a Friday night, where drummer Jonathan Pinson fronted his outsized band, Boom Clap, at the popular Friday Jazz Concert Series at the Los Angeles County of Modern Art. Pinson is not shy – he is rather full of roar, as he attacked the drums with a fervor that drew loud cheers from what appeared to be more than a thousand people present around the outside stage. All of Pinson's fellow musicians were extremely talented, younger and hipper, and all the songs had a groove, perhaps at times venturing into sweetness, but like cognac as opposed to cheese. Certainly a crowd pleaser.
Another full house filled the basement auditorium of the Barnsdall Gallery in Hollywood, the site of the first-ever Angel City Jazz Festival. Tenor saxophonist Daniel Rotem led his own group of LA jazz veterans: bassist Darek Oles (also seen at Ford), drummer Joe La Barbera and pianist Billy Childs. They played selections from Rotem's recent album of works reimagined by John Coltrane. Rotem has managed to capture the spirit and intent of the jazz giant, while transforming these sacred compositions into new creations that also reflect Rotem's thoughtful and eloquent spirit.
Ben Wendel, the night's second act, has made a name for himself since moving from Los Angeles to New York in 2010, but it's been a while since he performed in Los Angeles "C' is a bit nostalgic to be back here". announced the tenor saxophonist from the stage. He and singer Michael Mayo (also a former Angeleno) exchanged improvised phrases for a while before Wendel launched into his own solo, his gigantic sound generating visceral energy and controlled chaos. Pianist Fabian Almazan contributed a rumbling free piano solo, enhanced by running the sound through effects controlled by his left foot on an expression pedal. Bassist Harish Raghavan and drummer Nate Wood also lived in Los Angeles, and the latter was featured near the end, using electronic music concepts of layering various patterns in an organized yet dramatic fashion. Before their final track, Ben thanked Somazzi. "There's always a scene-setting person in a city," he said, "and Rocco is that person."
The third and final weekend of the festival kicked off in downtown Los Angeles at Colburn School's Thayer Hall. Los Angeles-based alto saxophonist Nicole McCabe has brought in her sextet to perform her series of pieces dedicated to various female mentors who have guided her life and career. His clever horn writing alternated between strong unison lines and dense harmonies, the tension in the chords never obscuring melody or intent. There was plenty of room for her bandmates to explore individually, but it was the bandleader herself who led the way with two strategically well-timed solos that demonstrated a dizzying array of virtuosity and creativity, finding new things to say about the alto saxophone.
McCabe was followed by pianist Myra Melford, who brought her entire quintet to Los Angeles to perform music from their new album, For the love of fire and water (Thug Art). The pianist jumped in with a cautious, growling introduction; its precise atonal figurations seemed to dance off the piano. Cellist Tomeka Reid joined in with a soulful bowed cello response, followed by sensitive percussive elements from drummer Lesley Mok. Ingrid Laubrock's tenor saxophone added to the collective intensity, and guitarist Mary Halvorson completed the fifth layer of sound with looping gasps and a simultaneous moan with Reid's cello. And all of that was just the introduction to the first track, but a harbinger of what was to come, with the five women working in telepathic unity to swirl their collective ideas around the stage and around the room, reaching a higher echelon of free jazz not often reached by most.
The festival's closing party at the Echo Park 2220 Arts + Archives club paired two other young and up-and-coming saxophonists, but other than that, they couldn't have been more divergent. Devin Daniels led a modern hard-bop quintet representative of the emerging youth movement in Los Angeles jazz. Daniels' alto tone was big and open with a slight growl, both inviting and menacing as he quickly sliced ​​through all the difficult material with razor sharp precision.
After intermission, 22-year-old Zoh Amba took the stage, a gentle and seemingly innocuous presence. The surprise came when she put her horn in her mouth. A strident lament emanated from her tenor, as if screaming in anguish before the ordeal he was about to endure from Amba's powerful and vicious sonic attacks, aided by the guitarist's distorted and rambling shredding. Wendy Eisenburg. Bassist Mark Dresser was also a willing accomplice, providing additional terror with his innovative bow and pinch technique and effects pedals. You could feel the audience heaving a sigh of relief, clapping appreciatively when it was over, no doubt happy to still be alive. Ultimately, this is the feel-good moment of any Hollywood horror movie.
There were plenty of other feel-good things throughout the festival, especially the opportunity to see and hear the multiple streams of style, region and generation mix and mingle. And with all the events at or near capacity, it's a really good feeling to know that there's an audience in LA for the diverse types of jazz on display, bound together by a commitment to artistry and authenticity. . comics
---
"My dad saw Hendrix open for the Monkees here in Jacksonville, and he told me that was his first time dropping acid. Pretty intense," Trucks said,

Sep 20, 2022 2:05 PM

It's hard to imagine the magnitude of the loss Derek Trucks must have felt in 2017. First, his uncle Butch Trucks, a…

Pharoah Sanders brought beauty and spirituality to the forefront of the avant-garde.

Sep 27, 2022 3:47 PM

Pharoah Sanders, the saxophonist and composer who became famous for his work in the mid-1960s with saxophonist John Coltrane,…

Gazarek is happy to have the chance to present jazz to a wider audience of this planet at that time.

Sep 20, 2022 11:39 AM

Of all the things Sara Gazarek imagined, hoped or dreamed of doing in her life, singing on stage as an alien…

Norah Jones opens Here it is: a tribute to Leonard Cohen (Blue Note) with a delicate and melancholic interpretation of "Steer Your Way".

October 25, 2022 1:04 p.m.

There's a reason why, for more than five decades, Leonard Cohen's songs have been covered by countless artists…

Idolatry has become a fact of life for the saxophonist, flautist, NEA Jazz Master and self-proclaimed dreamer.

October 18, 2022 1:26 p.m.

Flying early on a summer night in a difficult air travel season, Charles Lloyd's plane of Ottawa, Canada, touched down…