Alchemy Project Entertainment proudly presents Arcadia, a one-of-a-kind surprise and the most anticipated electronic music festival with 3 breathtaking stages and more than 100 international renowned DJs and producers and more than 50 of the best regional talents, for the fans and guests of Doha, from November 19 to December 19, 2022.
A phenomenal 50-ton fire-eaterSpider'known for impressing crowds and a heavy laser'Reactor' with unforgettable pyrotechnics will immerse fans in the environment with huge balls of flame, stunning lights and an incredible ambisonic sound system.
The steps of the beast of Arcadia broke all the rules to pioneer the fully immersive experience, transforming military hardware into monumental environments. Fusing architecture, engineering, sculpture, special effects and performance, Arcadia360-degree worlds explore the relationship between technology and human intent and will bring thousands of dance music fans together in a wave of celebration and happiness.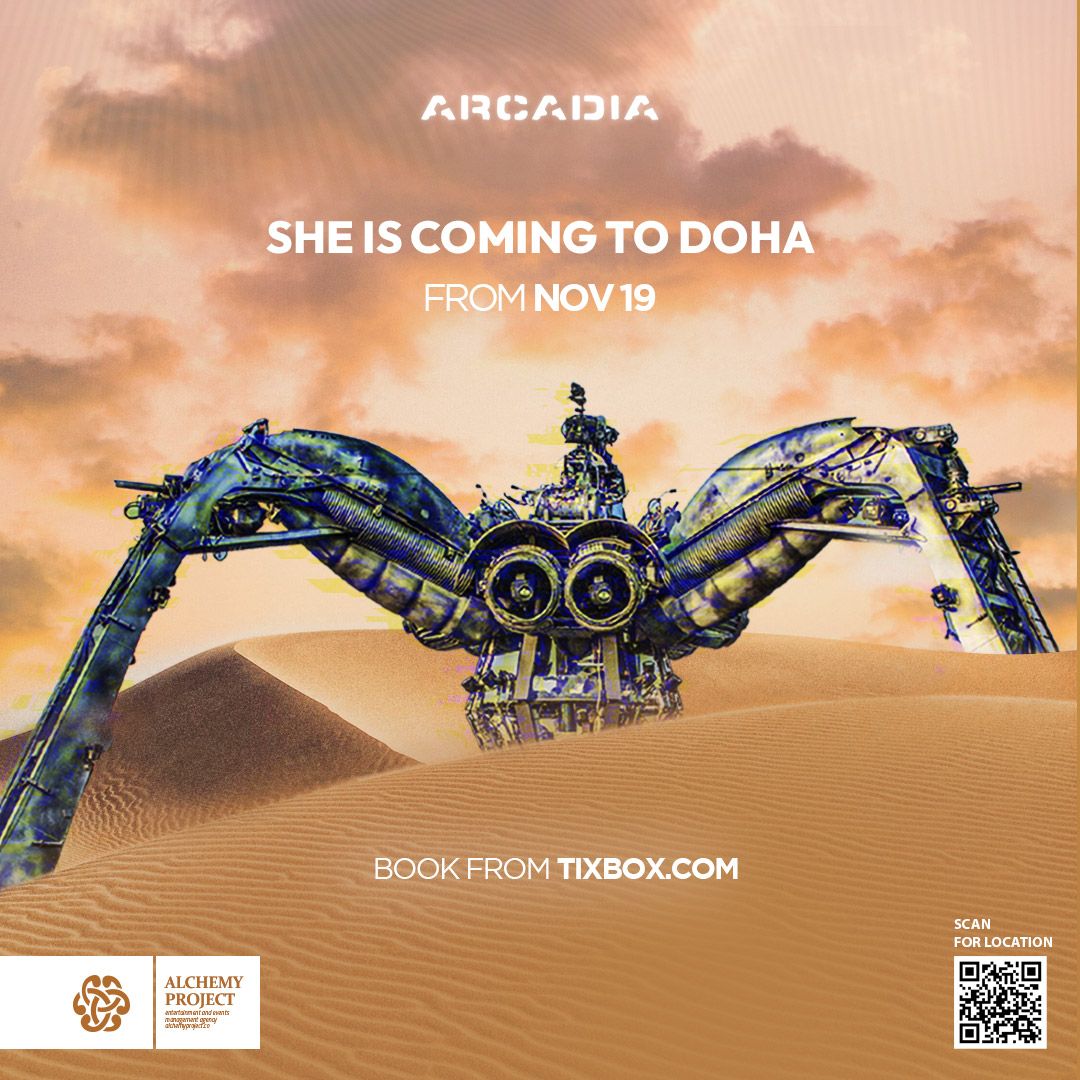 The Arcadia electronic and dance festival will be held near Ras Bu Fontas metro station and welcome up to 25,000 fans almost every day in November and December 2022. Every time you go, you'll experience the unparalleled lineup, rousing sets, top DJs and musicians, and biofuel flames. This will be a completely unique layout for Qatar, fully customized, curated and presented by Alchemy Project Entertainment and the CS.
Several stages of Arcadia will make the customer experience complete with moments of sharing, creating memories and electric smiles on the faces of children and adults.
Speaking of events Mac.s.Fargeneral manager of Alchemy Project Entertainment said:
"The Spider (stage one) is a phenomenally impressive asset that gives goosebumps to all audiences; the Reactor (stage two) is an intimate and extraordinary stage that engages fans in a whirlwind of quality music and lasting memories and the Curve (stage three) is a mix of live and interactive stage where guests watch the broadcast of games and dancing to live music between games. Overall, the lineup of artists performing at Arcadia will be as impressive as the structures themselves.
We are deeply excited to bring this unique and extraordinary experience to Qatar and the region for the very first time and take it to the next level. The level of entertainment in the upcoming period in Qatar will be unlike anything anyone has seen at a previous mega-event.
In November and December 2022, the eyes of the world will be on Qatar and we look forward to celebrating national teams, fans and dance music during this exciting time and creating memories that last a lifetime.
We thank the State of Qatar, the Supreme Committee, Q22, Qatar Airways, Qatar Tourism and all other stakeholders and supporters for supporting this phenomenal project and giving us the opportunity to share this indescribable experience with fans around the world. entire. We hope to deliver a project that fans will remember and the city will be proud of."
Some of the world renowned artists who will be performing at these magical events are: ATB, ARTBAT, Chris Avantgarde, Dubfire, Ferry Corsten, Hot since 82, Hernan Cattaneo, Paul van Dyk, Roger Sanchez and much more!
For more information on event queues and tickets, click HERE!