I wish they had chosen better music than what they played in this program of the Edinburgh International Festival.
Every bit of the first half of the concert was monotonous and sluggish, with the composers failing to find exciting material or not knowing what to do with what they had found. The music of Black American composer William Grant Still's Folk Suite No. 1 contained at least some appealing folk melodies, but apart from the poignant harmonies of Sometimes I feel like a child without a mother, the composer was reduced to awkward accompaniments blowing beneath his tunes. Valerie Coleman, contemporary American composer, wrote Red Clay and the Mississippi Delta for five wind players, but gives them little to do beyond wheezing alongside some bluesy riffs, making for a fun but lighthearted piece. The music of two First Nations Australians didn't fare much better. Deborah Cheetham Ngarrgooroon – Woven Song featured interesting and wandering melody lines, the harmonies for which Cheetham writes beautifully. However, it spun well past its natural running time, and five minutes could thankfully be cut off. Yet it is a model of restraint compared to the music of William Barton. Singer, composer and didgeridoo artist, Barton began The Motherland Uprising with the eerie sound of his voice floating from the back of the room against an unstable instrumental texture. A viola eventually awakens warmer strands of sound, while Barton's didgeridoo and vocals provide texture, and the music slides into different harmonies and keys as it progresses. It's far too long, however, spinning small shards of matter in a way that becomes repetitive and boring. He then played a tedious encore that featured his own invented language to sing short lines of melody against repeated chord patterns.
I'm 100% in favor of releasing unknown music regardless of ethnicity, and yes: let's promote the music of composers whose racial background gives them fewer opportunities. But let's try to find better music to do it with. There are bound to be more that are written with stronger technique, more engaging musical lines, and more economical materials. The musicians themselves seemed to play it with seriousness and commitment, but didn't they wonder if there was a feeling of the Emperor's new clothes in all this?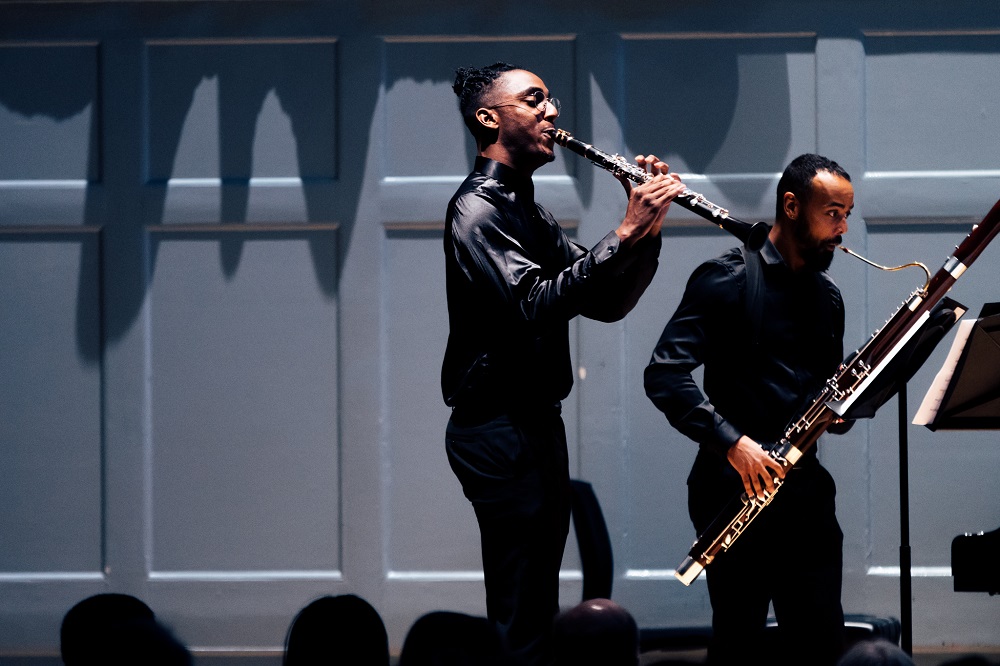 Mendelssohn's Piano Sextet, which featured in the second half of the program, showed what they could do with well-written, seriously constructed music. With its warm harmonies and determined musical approach, it felt like a breath of fresh air by comparison. It also felt like an afterthought.
Of course, not all music written by Western white men is excellent, which you might have noticed forcefully on Saturday morning with the thirty-three musicians of Brahms. Liebeslieder Waltzes. These trifles are musical indulgences, a world away from the technical triumphs of Brahms' symphonies, concertos and chamber music. They sound completely lovely, though. Not only do they play on emotions in all the right ways, but they are condensed sonic miracles that often deliver their emotional impact in less than a minute.
Hearing the two of them together was rather a lot to digest at a concert, a bit like being stuffed with tea cakes; but that was the only thing to complain about in a fine performance by Edinburgh pianists Malcolm Martineau and Steven Osborne, playing duets (I think I'm right in saying) for the first time (4 stars). It's not music to show off in, and each seemed to dissolve inside the other's musical line in a most fitting way. They also had a formidable quartet of soloists, with Madison Nonoa's silver soprano and Jess Dandy's beautifully rich contralto as ladies. Magnus Walker sang the tenor part with resounding energy, and William Thomas had a beautifully vigorous bass voice, full of juice. They were all wonderfully contrasting which made them look great when they were all put together.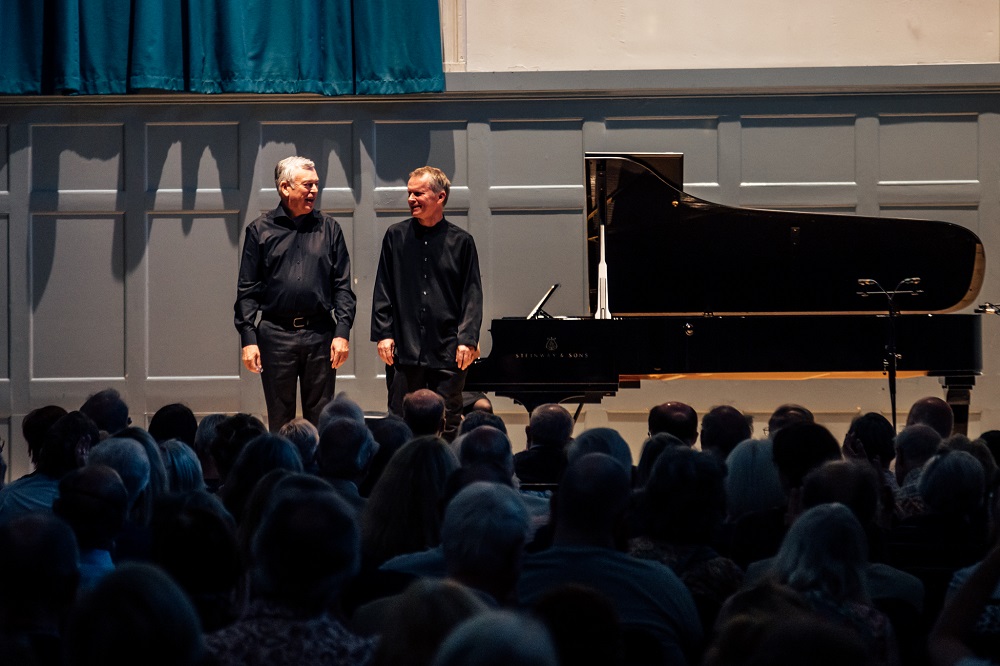 Martineau and Osborne (pictured above) also played a beautifully delicate performance from Ravel Mother Goose Suiteand a deep and elaborate interpretation of Schubert's F minor Fancya physically demonstrative performance where they both nodded and shook their heads vigorously to match the musical mood.
Thoughts on "great" music came back to me at the evening concert of the Scottish Chamber Orchestra on the 20e music of the century (4 stars), mainly because it ended with Robert Russell Bennett Symphonic picture on Gershwin Porgy and Bess. I have no doubts about Gershwin's terrific melodies, of course: my question mark came with Bennett's orchestral mix, which strings together the tunes slightly haphazardly and, more seriously, neutralizes Gershwin's ramshackle orchestration in smoothing things out and cutting the orchestral piano.
Nothing to complain about elsewhere in the concert, however, with a terrific performance by Rhapsody in blue. Wayne Marshall led from the keyboard, which he pushed within an inch of its lifespan during extended solos, and I mean extended! I don't think I've ever heard this piece with longer piano solos! However, it seemed to work because Marshall made the whole piece sound like an improvisation, not just the bits that actually were. This mood also pervaded the orchestra, notably with a terribly sordid opening clarinet solo, chock-full of behaviors, but full of fun. In short, the dream of any clarinetist.
by Bernstein Fantasy Free and that of Copland El Salon Mexico also benefited from an oversized orchestral sound that one rarely expects from a chamber orchestra, but with plenty of naughty detail too, like the soft strings and bouncy rhythms of the Copland.
Marshall finished with a chaotically brilliant improvisation on I have rhythm, played on the mighty Usher Hall organ. Of course, it overshadowed the orchestra, it was more than a little complacent, and it was definitely not "great" music; but I still clapped at the end.