Last year offered a glimpse of the bustle of autumn in Athens, but the coming months offer more promise of an eventful season. Some festivals are returning for the first time in three years, and others are just getting started. Below, discover flag poleof the guide to festivals happening this fall, and look for more in-depth coverage in future issues.
TRASHFEST: To celebrate the release of Heffner's second album, the band held a mini-festival inside 40 Watt with two indoor stages loaded with local and regional indie and punk rock. Featured artists include Heffner, Heat, Basically Nancy, The Echolocations, Klark Sound, Zoo Culture and MAK with a dance party afterwards courtesy of DJ Maeam. August 13, 7 p.m. to 1 a.m. at the 40 Watt Club. $15 to $20.
59 X PARTY: 59 X Records' third annual festival features punk and alternative rock bands from Athens and Atlanta. This year's performances include a special return from local punk band Burns Like Fire, who debut songs from their latest album. Still in trouble. The Carolyn co-stars with support from Rosie and The Ratdogs, The Killakee House, Noise Mountain, Viper Club, Mishapen and Way Past Cool. Sept. 3, 3:30 p.m. at Akademia Brewing Co. $15-$20.
AQUEMINI MUSIC FESTIVAL: Encouraging diversity and empowering minority creators, this inaugural festival will include artists, vendors, food, fashion, art and more. Lineup includes the Splitz Band, Aquatic Soul, Natti LoveJoy Band, Diamond Elyse, Kalena & GSG Band, Misnomer, Ishues, Domino 787, Candy Morgan, Guaranteed Money, Charlie Beatz, Greg R&B, Luckie, Quezzy Poet, Motorhead 2x, Farin , Derty Lingo, Mack2Tone, LLK and more. Sept. 4, 2-9 p.m. at Southern Brewing Co. $10, kids free.
ATHENS RAP FESTIVAL: Bag Talk Talent and Gue$$ present this exclusive hip hop lineup featuring artists Kxng Blanco, RR, Gloxkboy Fat, KFamouz, Young Esco Da Don, Gue$$ and Friends, Lil Ken, Dre Carr and more. DJ Sublime will take care of the atmosphere of the evening. September 9, 7 p.m. to 1 a.m. $10.
SEPTEMBER DAYS FESTIVAL: Back for a second year, part of the proceeds from this event benefit Goodmood, a non-profit emergency aid for touring artists. Day One features Flipturn, Hotel Fiction, Neighbor Lady, Well Kept, AD Blanco, and The Getaway Company. Day two is packed with performances from Vision Video, T. Hardy Morris, Girlpuppy, Heffner, Lighthearted, Wim Tapley & the Cannons, Five Eight, CannonandtheBoxes, The Echolocations, Drew Beskin & The Sunshine and The Head. Sept. 16 at 4 p.m. and Sept. 17 at 12 p.m. at Southern Brewing Co. $20-$35, kids free.
PRIDE PARTY: Welcoming and inclusive for all, this LGBTQIA+ community celebration also highlights local resources and activities. Enjoy live music, performance art, drag shows and vendors with more details to come. The organizers, Athens Pride & Queer Collective, will also organize a week of smaller events before the festival. September 17, 12 p.m. to 8 p.m. at Terrapin Beer Co.
NORTHERN GEORGIA FOLK FESTIVAL: Head to the park with a blanket and chairs for music, art, food, and other activities. There will be performances by Rebecca Sunshine Band, Ain't Sisters & Danielle Howe, Bichos Vivos, Athens Mountain Singers, Art Rosenbaum, Hogeyed Man, Veronika Jackson, The Lucky Jones, MrJordanMrTonks, Cicada Rhythm, Tin Cup Prophette, Marion Montgomery and Glyn Denham and Fester Hagood. September 24, 12 p.m. to 8 p.m. at Sandy Creek Park.
RENAISSANCE OF WILD WOOD: Festival in the form of an upscale camping experience, Wildwood offers a craft market, artistic performances, yoga, brunch and more. This year's musical lineup includes The Drive-By Truckers, Jenny Lewis, The Wood Brothers, John Moreland, Elizabeth Cook, Suzanne Santo, Early James, The Bones of JR Jones, The Heavy Heavy, The Packway, Handle Band, Zach Person , JP Harris, The Pink Stones and Leo III. Sept. 30–Oct. 2 at Cloverleaf Farm. $106 to $485.
CLASSIC CITY BREW FEST: This long-running event gives everyone from casual drinkers to seasoned beer lovers a chance to sample the craft beers of Athens and the region at large. Location and details are yet to be announced. October 1st.
LATINXFEST: During National Hispanic Heritage Month, the community comes together to celebrate and share the food, music, art and dance of Latinx cultures with the whole community. The festival aims to showcase the contributions of the immigrant community in Athens through artistic expression and recreation. This is the festival's first return since 2019. October 1 in downtown Athens.
PORCHFEST: Historic Athens' biggest event combines the city's musical and architectural history for an afternoon of community discovery. Hosts to Athens' walkable neighborhoods lend their porches to a variety of bands and artists for outdoor performances, offering a wide cross section of what the local music scene has to offer. Oct. 2, 1 p.m. to 8 p.m. in various neighborhoods.
WILD RUMPUS PARADE AND SHOW: Wear your spookiest or craziest Halloween costume and join the parade as it winds through the streets of downtown, cheered on by musical performances lined up along the way. The parade culminates in a huge late-night outdoor dance party with performance artists adding to the festivities. October 29 in downtown Athens.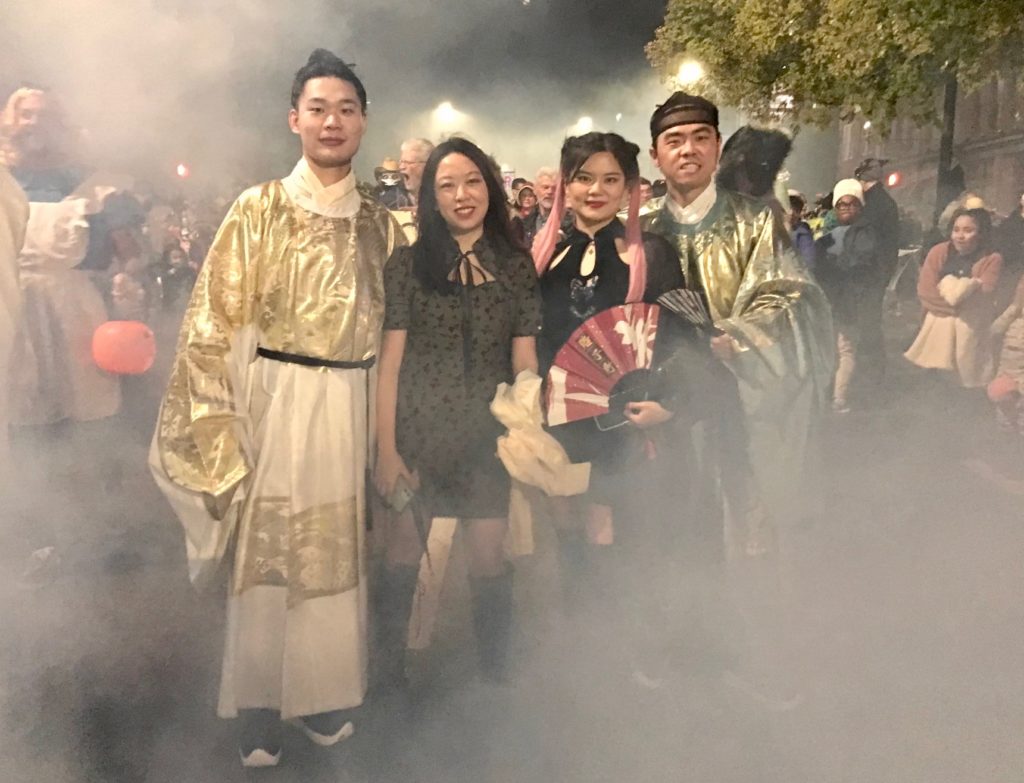 Do you like what you just read? Support Flagpole by donating today. Every dollar you donate helps fund our continued mission to provide Athens with quality, independent journalism.