Belvoir's Sue Donnelly admits her recent sideways move to the newly created position of executive producer is a bit out of the ordinary.
"It's an unusual situation, but it seems to be working so far," said Donnelly, who stepped down in March as the company's executive director and co-CEO (those responsibilities now being held by Aaron Beach, previously Deputy Executive Director and Senior Producer of Belvoir).
Donnelly's new role reflects the reactive and creative approach to career progression often seen in the arts, rather than the more rigid and conservative thinking sometimes seen in other sectors.
"I think that's the way the arts have to work and it has to work that way because of the lack of resources and also, it's just [reflects] the creativity inherent in working in an arts organization. When I employ people, I obviously always look at their skills, but also their enthusiasm, their commitment, their passion for theatre. Because having the skills is very important, but you also have to have all these other elements these days because it's hard to work in the arts, no doubt about that," she said.
Lily: Creative career progression in the arts
As executive producer, Donnelly is currently focused on touring the 2019 production of Belvoir. Count and Crack – an epic story about the migrant experience originally co-produced with Co-curious – at the Edinburgh Festival in August. The production will also have a subsequent season as part of the Birmingham Festival later the same month.
"To tour internationally with 37 people, including a 90-year-old actor, is a huge thing to do – it takes a lot of attention and there's been a lot of fundraising to get the show finished. [the line]" Donnelly said.
Written by S. Shakthidharan with Eamon Flack, Count and Crack follows the journey of a Sri Lankan-Australian family over four generations, from 1956 to 2004, and features 19 performers from six different countries. Various sources of funding helped make the tour possible.
"It's difficult to tour internationally. It's expensive, and people in the northern hemisphere expect the government to support you to tour, all travel costs, which they used to do a lot before, but it all kind of worked out collapsed. But we got some support from the federal government and also, interestingly, from the New South Wales government, which doesn't often support international touring, and then we did our own fundraising as well.
Although it focuses largely on the impending Count and Crack tour, Donnelly is also focusing on planned capital works at Belvoir's Surry Hills Theater and Warehouse.
"We are very lucky to own both buildings, but they are… 100 years old and collapsing around us. As for the theater, which everyone loves and which is our pride and joy, we did the redevelopment in 2005 – 2006 and repaired the whole building, and that's when we bought the warehouse just down the street in Belvoir Street because we couldn't expand the theater because it's surrounded by apartments," she explained.
"We have just submitted an application to the Creative Capital of the Government of New South Wales [fund] – there's money going there, so I'm crossing my fingers that we can get something there.
Once funded, the proposed capital works will include the opening of the Belvoir Foyer as well as much-needed improvements behind the scenes.
"We certainly can't make the theater bigger, but we can do things like open up the foyer a lot more – people are complaining all the time [about the foyer], especially about the lack of women's toilets, this is an ongoing problem. We therefore want to open up space in the foyer so that people can settle in more comfortably, and also set up the backstage. We have a big dressing room for our actors in the upstairs theater and it's just not enough these days.
Alterations to the Belvoir warehouse, just down the street, will hopefully include adding an extra floor to create more space, which can then be rented out to other creative industries , creating a new source of revenue for Belvoir.
"It's about doing something for the next generation, really. The theater was saved in '84, and then we remodeled the theater and bought the warehouse in 2005. And so it's like the third iteration to take us to the next generation – if we can do that. I mean, that's a big if. We will have a massive fundraising campaign, but we are waiting to see if we can get the money from the government to get started.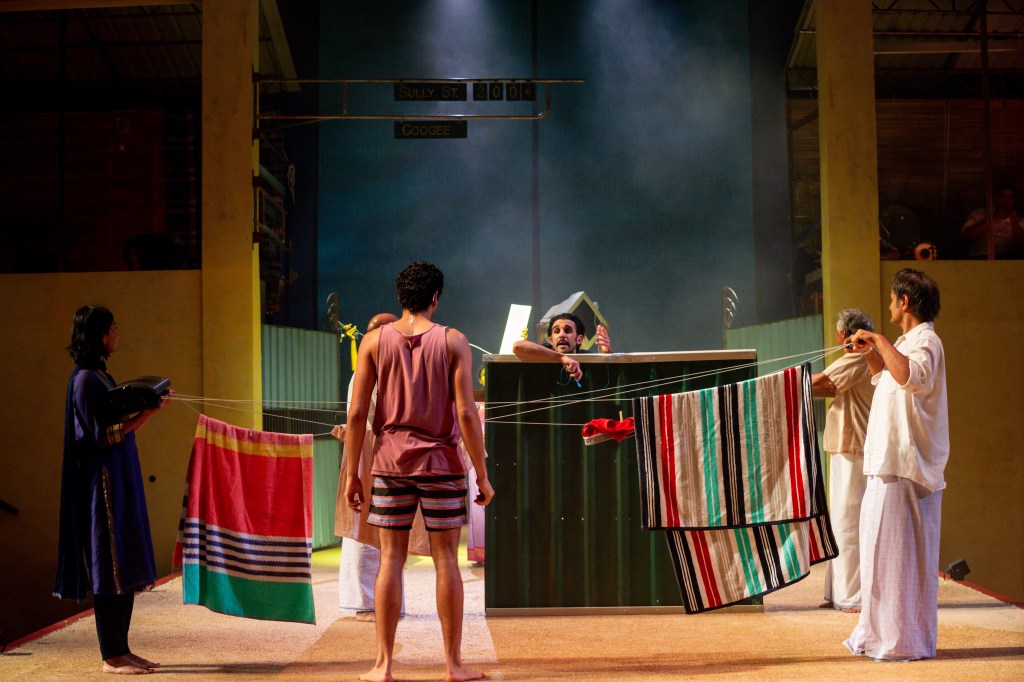 Returning to Count and CrackDonnelley said Belvoir had always wanted the play to go overseas, but a number of complications – including the impact of COVID – have delayed a tour so far.
"Most of the companies haven't toured in the past few years and Belvoir hasn't toured internationally for a few years now, and that was partly because of the whole economic situation. It's incredibly expensive. to tour overseas. We just had to focus on what we were doing in Australia. But we're very proud of Count and Crack. It took us a long time to develop it, and it was one of those shows where people were like, "you'll never get to do this." Of course, it was like a red rag for a bull," Donnelly laughed.
Getting the epic piece staged at the 2019 Sydney and Adelaide festivals was hard enough, let alone sending the production halfway around the world. His upcoming tour is part of the UK/Australia season 2021-2022, a joint initiative of the British Council and the Australian Government's Department of Foreign Affairs and Trade to showcase each nation's artists and cultural sectors. Other participating companies include Branch Nebula, Circa, Back to Back Theater and Gravity and Other Myths.
'The theme for the UK/Australia season is "Who are we now?" And I think Count and Crack absolutely personifies that phrase in terms of Australia. Who are we now? Well, now we're an incredibly diverse country and benefit so much from the refugees and migrants who have come to Australia – and we're a much richer country for that.
Discussing the logistics of the tour, Donnelly doesn't seem intimidated by the challenge of bringing the piece to the UK.
"The cast is 16 actors and three musicians, so 19 people on stage, but there are 10 crew members and also the creatives and business leaders who travel, so it's big. It's not big compared to, say, a symphony orchestra or a ballet company, but for a theater company it is. But it's typical of Belvoir, that if we're going to do a show overseas, we take the biggest we've ever done!