Ibiza Global Radio announces a two-day sustainable music festival, "Ibiza Global Festival", which will take place on July 30 and 31, 2022 in San Antonio.
The two-day free event will run from 5 p.m. to midnight each day, with 14 hours of live electronic music throughout the weekend. Under the motto 'The rhythm of the planet'this is the first time that a 100% eco-designed electronic music festival has taken place on the Balearic island. Ibiza World Radio forging ahead and aiming to become a leader in eco-friendly events in Ibiza.
The festival will have a live stage and also a main stage which will be led by Luciano, the award-winning Chilean and Swiss DJ and producer on Day 1. On Day 2, the festival is headlined by the Grammy-nominated house music DJ and producer Nic Fanciulli.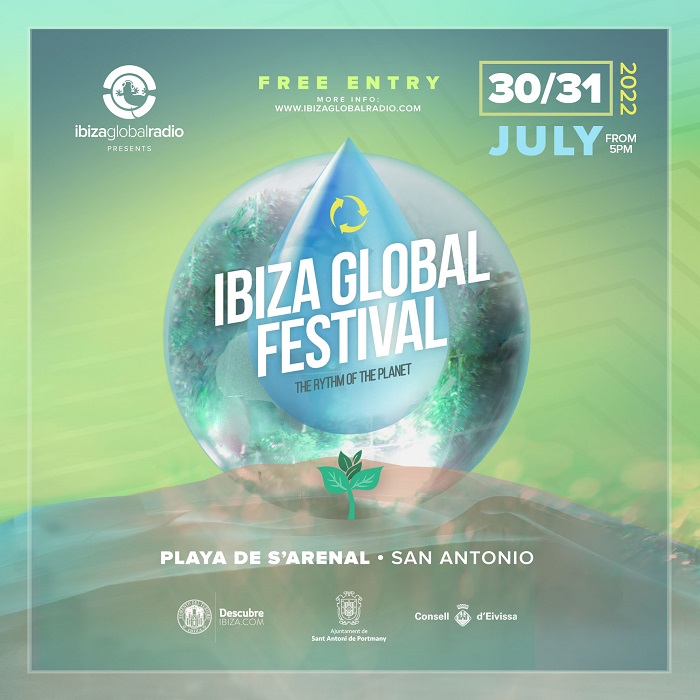 Both Luciano and Fanciulli are no strangers to Ibiza's unparalleled club scene. Luciano, label boss at Cadenza Records, is sure to ignite the dance floor with its electrifying signature house, tech house and techno sound marked by scorching Latin American influences. Meanwhile, Nic Fanciulli knows exactly how to whip the crowd into a frenzy with his energetic and powerful house sound. He's been making waves this summer in Ibiza with guest spots all over the island, and his new DANCE! residence every Sunday with a host of surprise guests.
Luciano and Fanciulli will lead a carefully curated musical program that will run from 5:00 p.m. CET to midnight each day, featuring a mix of international guests and Ibiza Global roster talent. Complete list in alphabetical order:
ALEX KENNON
BALOO
FLAT BLOW
JAMES MON & CRISS
JOSE M DURO
JOSE MARIA RAMON
JOSEFIN ROSEN
LUCIANO
MARTA TADDEI
Nic Fanciulli
REBEKA BROWN
REFF
SOLSKIN
TONI MORENO
VINYL MODE
WOLO
XAVI EMPARAN
Scheduled to take place on San Antonioit is S'Arenal beach at the center of the iconic sunset destination, the event will feature a number of different spaces to showcase the many facets of the island: its natural beauty, the unique lifestyle, the incredible energy, the spectacular gastronomy and the hospitable spirit of the inhabitants. These include the main stage as well as a food market, chill-out space, acoustic jam sessions, and game zone.
The event has a limited capacity of 30,000 people over the two days. Guests can pre-register for a chance to win two backstage passes to the event. With a focus on a "greener and cleaner" future, a number of eco-friendly measures will be an integral part of the event, such as the use of recyclable cups. Art installations celebrating life and nature will be installed on the main stage and throughout the park.
Daniele LupinoCEO of Ibiza World Radiocomments: "We are delighted to launch Ibiza Global Festival, the island's first sustainable music festival. Ibiza has always been a leader in electronic music, and now is the time to lead the way in lasting events. This event comes from the people of Ibiza, for the island.
Event sponsors include Heineken, Coca Cola, Pioneer DJ, Royal Bliss, MDL Beast, Caffé Pascucci, Grana Padano, Funktion One and Sonitek, as well as event partners O Beach Ibiza, Ibiza Rocks, Soul City and Amistat Island Hostel Ibiza. The festival is organized with the full support of island institutions, including Ayuntamiento de San Antonio, Fomento del turismo de la isla de Ibiza and Consell d'Eivissa.
Enter to win two backstage passes to this amazing new sustainable festival, visit the link.