On Air LA Annex Reveals the Full Schedule for the Festival's First-Ever Open Day, a Free, Public Event Powered by Patreon on November 5
In dublab's brand new warehouse, The Stacked Afternoon will feature DJ sets, live podcast recordings and performances by radio locator, Little Deaths, Celebrity Book Club, Cannon ExploderAnn Magnuson and More Southern California Storytellers
Additional Live Schedule LA programming takes place at KCRW Headquarters and Dynasty Typewriter from November 3-5, featuring headliners Sam Sanders (In it), Anthony Valadez & Novena Carmel (The morning becomes eclectic), Hanif Abdurraqib (object of sound), Hrishikesh Hirway (song exploder), Lynne Thompson (Los Angeles Poet Laureate), Shima Oliaee (pink card, Dolly Parton's America), creators of Welcome to Night Vale & Audible Unlicensed
Next Saturday, November 5, as part of the third and final day of On Air LA Annex, Patreon will present the very first Live Open Day. Taking place from 12 p.m. to 5 p.m. at the brand new dublab warehouse in Los Angeles (1035 W 24th St), the free, public event invites Southern California to celebrate its creative community and advance audio culture. Bringing together a wide range of local storytellers, podcasters, artists and audio creators, the afternoon will feature hourly DJ sets, exclusive live recordings, an LA Radio Club gathering, performances and conversations, as well as food, drinks and more. just announced, all hosted by LA podcasters and radio locator welcomes Mala Muñoz and Diosa Femme.
Talent includes the teams behind podcasts such as radio locator, Celebrity Book Club and Cannon ExploderLos Angeles-based producers and managers KPCC, efile, Patreon, Pineapple Street Studios and beyond, as well as executive director of dublab Alexander Cohen and founder Brand "Frosty" McNeill. Find the full list of guests, additional information and RSVP links herewith programming notes described in more detail below.
Leading up to the On Air Open House, On Air LA Annex's signature events will also feature an extensive showcase of leaders, inspired listeners and pioneering new voices defining the current moment in sound. Hailed as "the Coachella of podcast festivals" (Fast Company), "showing how creativity, branding and the power of the human voice can come together" (Forbes), the Brooklyn-based bicoastal live festivalThe first edition of Los Angeles in three years will take place at KCRW HQ in Santa Monica from 6:30 p.m. to 9:30 p.m. both November 3 and 4thas well as the alternative comedy center of Dynasty typewriter close things from 6:30 p.m. to 9:30 p.m. November 5.
Highlights from the first night of On Air LA Annex at KCRW headquarters on Thursday November 3 include music, games and conversations between the reigning king of pop culture Sam Sander (In itVulture), Novena Carmel and Antoine Valadez (The morning becomes eclecticKCRW)as well as the exclusive world premiere for pink carda new and groundbreaking new series from the producer Shima Oliaee (Dolly Parton's America) and ESPN's 30 for 30. Presented by AudibleNight Two on Friday, November 4, will bring an exclusive performance and world premiere event for Unlicensedthe new Audible Original from Welcome to Night Vale creators, as well as live poetry from LA Poet Laureate Lynne Thompsonand a live recording from Sonos Radio object of sound with the host Hanif Abdurraqib and special guest Hrishikesh Road of song exploder. Then, after the live open house on November 5, wolf-ear and host Jacquis Neal will present Comedian Family Feud at Dynasty typewriterwhere two teams of podcasters will face off in classic game show style.
See the update programcompleted line uplist of sponsorlevels of tickets and more Information for the three days of On Air LA Annex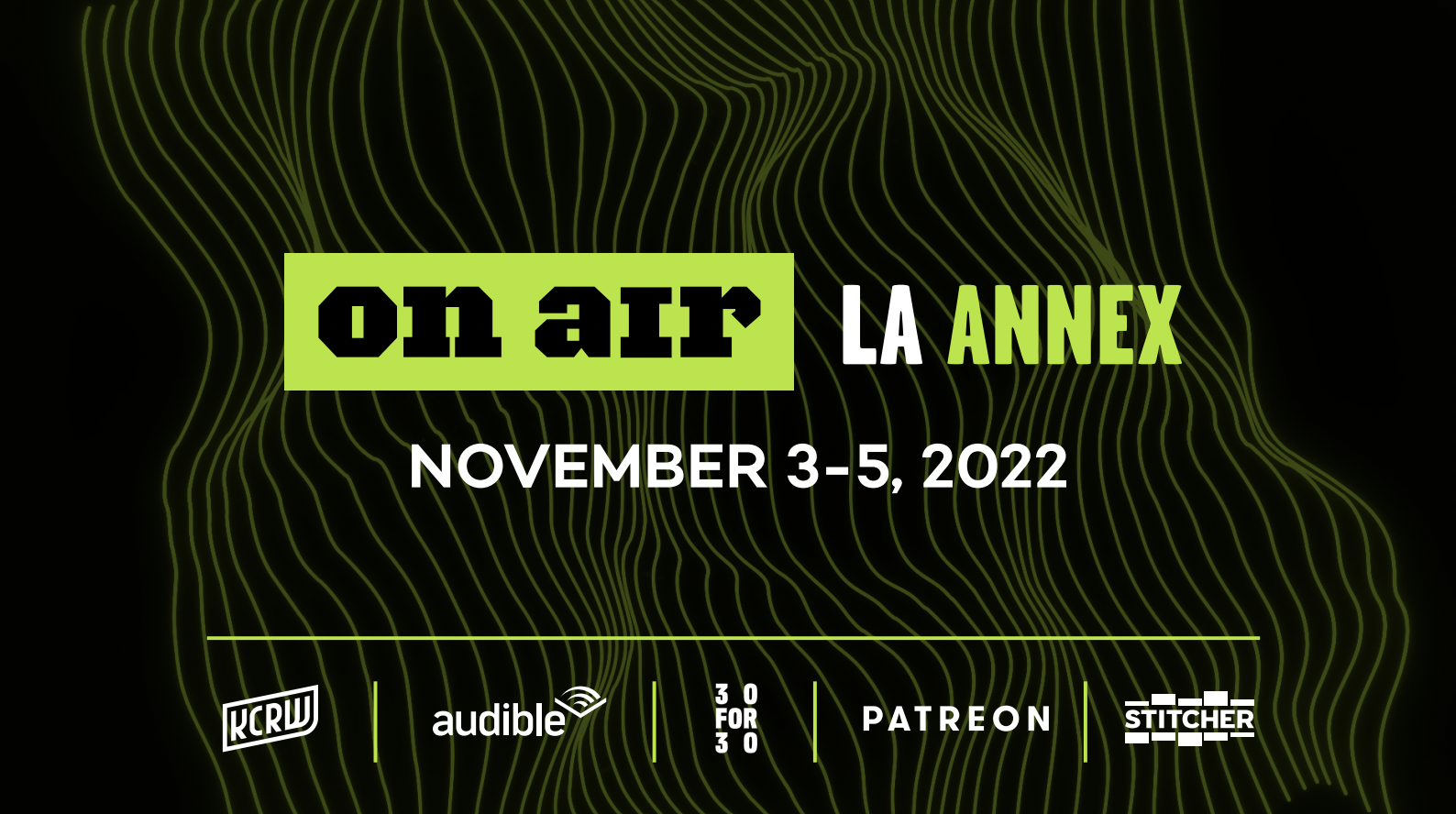 On Air Open House @ dublab, Powered by Patreon
12pm-5pm | November 5
Tribute to Art Laboe with DJ Lady C
DJ Lady C is on the tables for a day-long set inspired by the legendary late LA DJ and cultural figure, Art Laboe.
radio locator Live
Locatora Radio is your prima's favorite podcast hosted by Mala Muñoz and Diosa Femme. In this live taping at On Air Fest, Mala and Diosa take the stage for an interview with an up-and-coming Latinx creator.
Little Deaths in Performance
Through the Little Deaths podcast, designer Kym Allen shares the love journey of a black woman. Listen to a personal essay by Kym read aloud accompanied by the original theme song with musicians Khyelle Anthony and Roksana Habibi.
Signal Harvest: a radio remix performance
A snapshot of human audio expression that will never sound the same twice. In this live mixing session of broadcasts from around the world, DJ Mark "Frosty" McNeill uses Radio.Garden, an interactive aggregate of global transmissions allowing real-time discovery of sounds from every corner of the world.
Radio Club Presents: Making Audio in Los Angeles
In this lounge-style gathering, LA Radio Club opens its doors as local members Josh Gwynn (Pineapple Street), Stefanie Ritoper (KPCC and LAist), Andrea Gutierrez (TED) and Ari Saperstein (Pineapple Street) spark a conversation about the create audio in Los Angeles and the city's audio scene, and expand the conversation in a town hall that everyone is invited to.
I dreamed I was an androgynous rock star in my Maidenform bra: Memories of Club 57 Performed by Ann Magnuson
Ann Magnuson takes the stage for a reading, reimagined for the stage and set to music by dublab's Alejandro Cohen.
Erick Castro's mixology demo
During this onstage session with "Bartender at Large" Erick Castro, hear the connection between the drinks you know and the stories behind them, then sample one of Erick's old specialties.
Roger Steffens: Stories of The family acid
Psychedelic pioneer, prolific photographer and iconic DJ, Roger Steffens shares stories from his many lives on stage – traveling with Bob Marley, launching KCRW's long-running show The Reggae Rhythm, and documenting culture across California. Join Roger and his son Devon Steffens for tales of The family acid.
A conversation with Celebrity Book Club Host, Chelsea Devantez
Patreon creator Chelsea Devantez, prolific writer, comedian, filmmaker and host of the hit podcast 'Celebrity Book Club' sits down for an intimate chat with Patreon's Chad Foster to discuss the making of the show, the impact it had on his life, and the power to cultivate a community.
Cannon Exploder Presents: The Essential Ingredients of the Songwriting Process
In this interactive presentation of the Spanish language spin-off of Song Exploder, the hit podcast and Netflix series created by Hrishikesh Hirway, Canción Exploder host and co-executive producer Martina Castro will reveal what she has learned about essential elements of the songwriting process. among the 10 artists featured in the first season of the podcast. Audience members will choose the order in which they want to explore five key elements of the songs in the podcast.
Patreon is the best place for creators to build memberships by providing exclusive access to their work and a deeper connection with their communities. dublab is a non-profit radio station based in Los Angeles. dublab cultivates and supports local cultural ecosystems around the world. Through community-generated radio, dublab promotes curiosity, experimentation, inclusivity and connection.
About the live festival
On Air Fest advances audio culture. We bring together a wide range of emerging and established voices to explore the creative possibilities of sound. Created and produced by work x work, On Air Fest has become the premier cultural event for audio creatives and inspired listeners. Throughout the year, we produce a range of cultural programs, from side events to our residency program, from creative collaborations to cultural campaigns and podcasts. On Air Fest makes room for the artists and storytellers who are defining this moment in audio.
About work x work
work x work is a full-service creative agency amplifying the world's biggest brands through storytelling, design and experiences. Our innovative work has made us the go-to agency for organizations looking to participate in audio culture. In addition to design, strategy and events, we create multi-channel campaigns, original content and produce podcasting's premier cultural event, On Air Fest.
for more information contact matt hank, Greg Jakubik Where Annie Mickum at
Shore Fire Media, (718) 522-7171