---
By John MurfISeptember 20, 2022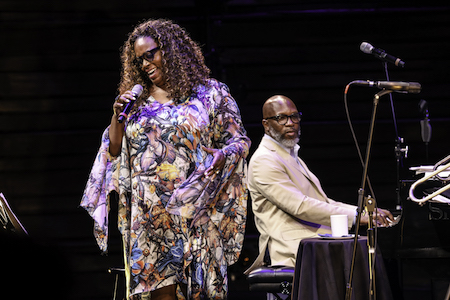 Fostering bridges is Orrin Evans' modus operandi as he fulfills his duties as artist-in-residence at DC Jazz Fest. In this year-long position, which will continue until early 2023, the pianist and composer creates channels that allow musicians of different generations, genders, geographies and styles to mingle at various booths at music. He pulled it off superbly on September 2 at the 18th Annual DC Jazz Festival when an exuberant nine-track edition of his Captain Black Big Band teamed up with the majestic Dianne Reeves.
The pairing (made possible, in part, by an Arts du Sud scholarship) initially seemed both provocative and probable. Evans often leads his Captain Black Big Band into treacherous waters where singable melodies and dynamic rhythms often dissipate into dissonant harmonies, ominous improvisations and jerky propulsion. For much of the past two decades, Reeves has typically led streamlined ensembles of trusted musicians — pianist Peter Martin, drummer Terreon Gully, bassist Reginald Veal, guitarist Romero Lubambo — who allow his rich contralto to sashay elegantly. through a varied program of jazz, Brazilian, pop and soul standards and well-crafted originals.
Neither Evans nor Reeves, however, are captive to any idiomatic persuasion. Both come to the table with immense canonical knowledge of jazz. More beneficially, however, they manifest a genuine curiosity to explore both new and unlikely repertoire without losing their respective distinctive artistic visions.
In front of the Arena stage at the Mead Center for American Theater, the overjoyed audience of the Captain Black Big Band began the concert with a rumbling reading of Thelonious Monk's "Off Minor." As drummer Mark Whitfield Jr. and bassist Luques Curtis pushed the bebop classic with scorching energy, the six-horn section, consisting of two saxophonists, two trumpeters and two trombonists, blasted the prancing melody with a whim that reminded the Sun Ra Arkestra. . Tenor titan Caleb Wheeler Curtis launched a spiraling improvisation against the rhythm section's torrential momentum. Equally scintillating solos from trumpeter Charlie Porter and alto saxophonists Todd Bashore eventually followed. The sonic density of the music nearly drowned out Evans' piano playing. But when it emerged from beneath the harmonic tsunami, it ticked off a coruscating solo that used the prancing melody as a launching pad to create ribbons of curvaceous improvisational passages punctuated with harmonic jerks and jagged ellipses. The set concluded "Off Minor" with a hypnotic hip-hop vamp that connected to the timeless modernity of Monk's legacy with 21st century impulses.
While the adventurous nature of his treatment of the Monk classic set the tone for the rest of Captain Black Big Band's first half set – particularly his intriguing rendition of Andrew Hill's 'Tough Love', on which the dialogue talked about Evans offered timely social commentary on the need for unconditional love amid insurmountable duress — his cutting-edge features didn't prevent palliative sensibilities from surfacing. This was evident in Evans' lavish arrangement of Roy Hargrove's waltz ballad "Into Dawn", which featured David Gibson's gripping trumpet playing and Evans' haunting piano playing as he enlivened the melody. melancholy with suspenseful pauses and tumbling passages and "Hymn", a chorale-like ballad that featured only the horn section.
If the first half demonstrated Captain Big Band's propensity for ferocity, when Reeves joined him, it showed he had an enormous capacity for finesse. The set provided her with a luxurious cushion as she delivered a gripping revamp of Fleetwood Mac's killer pop classics "Dreams" and "Chan's Song (Never Said)", a gripping ballad penned by Herbie Hancock that premiered for the first time in Bertrand Tavernier's film in 1986 Midnight Tower then later on Reeves' 1987 self-titled album Blue Note with lyrics written by Stevie Wonder.
Reeves and the Captain Black Big Band reached their emotional climax with a sanguine performance (and first big band treatment) of her signature composition, "Better Days," on which she pays homage to her grandmother, and on the scintillating interpretation of Bob Haggart and Johnny Burke's composition "What's New?" She also demonstrated her longstanding affinity with Brazilian jazz with a dazzling reworking of João Bosco's "Incompatibilidade De Gênios", over which her magnificent alto swayed to an infectious samba beat, interspersed with sharp brass lines.
Reeves sparked an undeniable relationship with Evans' Captain Black Big Band in a thrilling performance that we hope is just the first of more collaborations to come. comics
---
DeFrancesco recorded his first album and toured Europe as a member of Miles Davis' band at the age of 17.

August 30, 2022 11:45 am

The music world is mourning the unexpected passing of Joey DeFrancesco, who died August 25 of a massive heart attack,…

Jon Batiste, Critics' Choice for Jazz Artist and Beyond Artist of the Year as well as Beyond Album of the Year.

Jul 26, 2022 2:27 AM

The 70th Annual DownBeat International Critics Poll has made history, with pianist Jon Batiste being the first artist to…

Batiste performing his hit "Freedom" at this year's Grammy Awards.

Jul 26, 2022 2:25 AM

At first glance, it seems counterintuitive that DownBeat reviewers would name the same musician as both a jazz artist…

Lewis, a three-time Grammy winner, has had huge success jumping from the jazz charts to the pop charts.

Sep 13, 2022 1:17 PM

Jazz pianist, three-time Grammy winner and jazz master NEA Ramsey Lewis, who successfully transitioned from jazz…

The Wonders, left to right: Bill Frisell, Eric Harland, Charles Lloyd, Reuben Rogers and Greg Leisz.

August 3, 2022 12:38 p.m.

Leading a secluded life in the vast mountainous region above Montecito, California, Charles Lloyd has plenty of time and…