High on the walls of the Exit Theater cafe, several posters advertising San Francisco's Fringe festivals bear the same motto: "No risk, no art." The police have the stamped style of a renegade outfit marking their supplies before heading into battle.
At the last Fringe to be held at the company's Eddy Street theater complex, that spirit continued. Although the release is leaving the space at the end of the year for financial reasons, ending four decades on the Tenderloin thoroughfare, the avant-garde brilliance is stronger than ever at this year's festival, the company's 31st.
Closure of SF's Exit Theater, ending 40 years of odd little happenings on Eddy Street
Exit's Eddy Street venue closure is personal for Bay Area theater artists — including me
This is there, in the staff and volunteers of Exit, as efficient and as well trained as a company with a much higher budget; they run the rare operation where every show starts exactly on time. It's there in the way the audience and costumed performers compete for space in the narrow exit hallway between shows, or the way the two groups stack their bikes in the installation's green room. It is there too, in the portable scripts, the mumbled and swallowed lines, the exchanges interrupting the spectacle between the interpreter and the operator of the painting on omitted passages and sloppy marks.
The whole point of the Fringe is that the lottery, not the curation, determines the programming. Anyone can apply, and how each performer spends their hour on stage is up to them, as long as they can load and be out in 15 minutes or less. This policy produces art that will not be mastered, stored or packaged. It also gives under-repeated grincefests.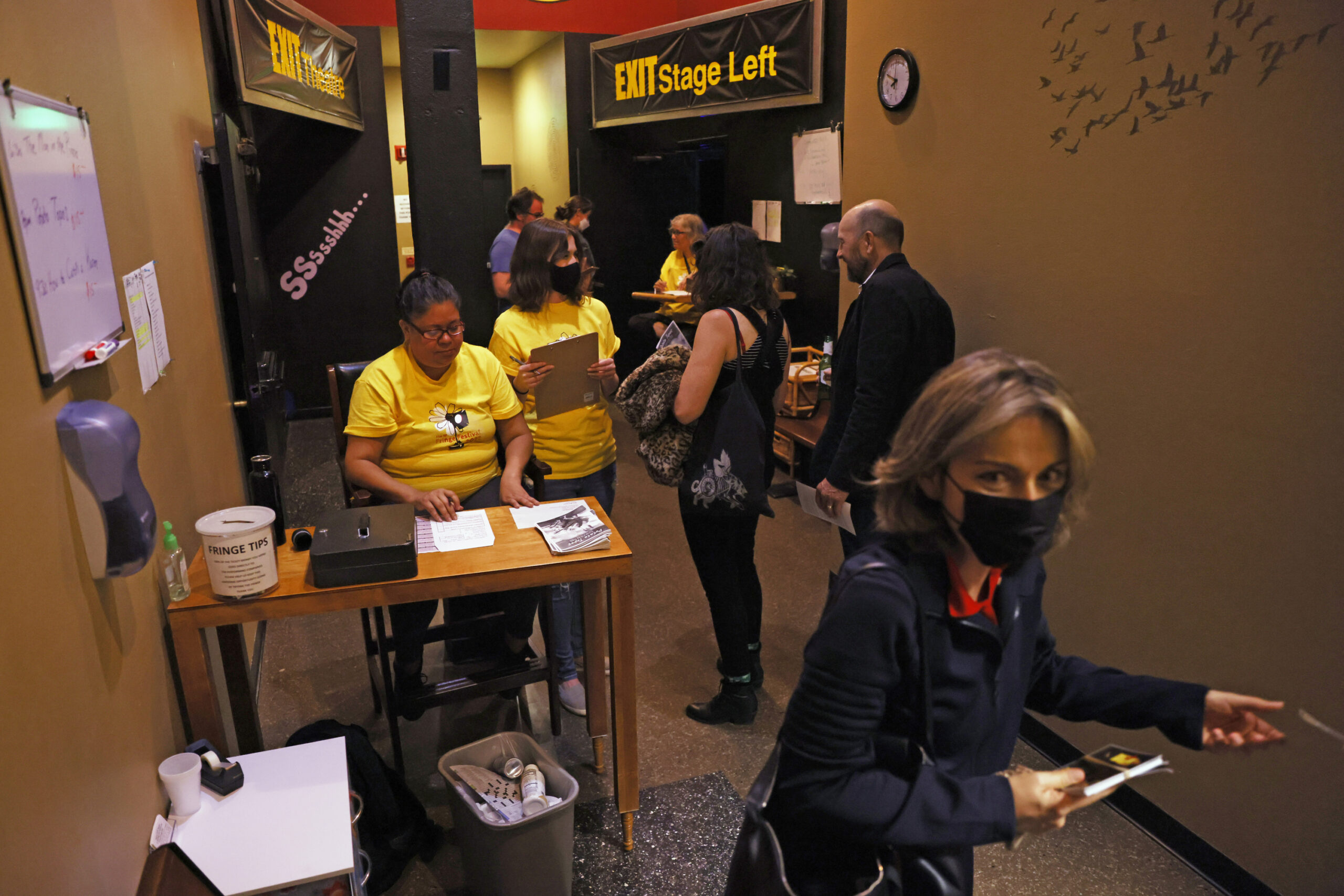 But while misfires frequently derailed Kathryn Seaborn's "Angry Black Woman 101" on Saturday, Sept. 10, they didn't dull her pointed observations about misogynoir. Particularly effectively, she wields a soft toy in the shape of a pink penis as if it were a talisman; his pose suggests warding off vampires, but his goal is only to make listeners respect his intelligence.
At this performance, the bulk of the audience was a predominantly white school group of 13 to 14 year olds from Idaho, and Seaborn took time for a lengthy question-and-answer period. A child asked when Seaborn thought the next big step in the fight against racism and sexism might happen. With help from other black women in the audience, Seaborn replied, "You, baby."
It's possible, of course, that such a candid, open, and nonjudgmental meeting of minds could happen in another theater, but that kind of fellowship is exactly what the outing makes possible. At the Fringe, performer and audience are truly equal, and everyone plays on the same team.
The Fringe attests that everyone has a story to tell, that everyone has the right to be an artist. "My First Miracle – Adventures in Bipolar Disorder" by Bennet Caffee and "The Man at the Piano" by Samuel Abraham, an assortment of musings on love, trauma, social norms and more, made me think that a reverse of self-indulgence is raw honesty. When someone shows what many would consider too much, an initial reaction might be to look askance or to distract. But there is something beautiful and disarmingly breathtaking about this adventure in uncovering, uncovering scars and perhaps even ripping scabs off.
Fringeing's luck is that you stumble upon performers you might never otherwise risk and inevitably uncover a treasure.
L.A. singer Kazu Kusano, recounting her journey from Japanese childhood to artistic flourishing in the United States in "Pretty Beast," is a consummate storyteller, quick with insight, sharp in gesture, mean in attitude. You might find yourself wanting to steal his punchline about how sexist Japan is. She pauses after this announcement, to let her direct and disconcerting generalization sink in, making us wonder what might happen next. Then, as if we were stupid or something like that: "Like everywhere else in the world." It's perfect and delicious. May she mess up and drop sneaky truth bombs on many more Bay Area stages.
Sabrina Wenske's "How to Catch a Karen" is a delight that seems equally forbidden. In the Naked Empire Bouffon Company production, she is Baba Yaga, an Eastern European witch figure who stirs her cauldron with a bloody severed leg. Purulent warts dot his face. From her back swells a large blue bump, much like a turtle's shell, and her breasts sag prodigiously and asymmetrically, giving her ample opportunity to caress them thoughtfully or scratch underneath. (Bulges are a hallmark of the jester, a form of clowning, and Lena Sands designed the outrageous costume.) As she tastes her brew, she continues to taste a craving. She needs more tears from white women.
If all the punches don't strike, "Hot to Catch a Karen" has flashes of unflinching brilliance as her skewers supposedly awaken white femininity. Wenske makes individual paratroopers cry during a holy crusade. She reveals the language of white fragility in all its ridiculousness and pomp: "I was not operating from a place of love. "We are going to end racism today."
In many theaters, you may not be able to joke about such lingo, onstage or off. This is why the Exit Theater and the Fringe Festival are so essential; that's why it's now incumbent on us – the entire Bay Area – to respond to the next step for the region's small experimental theater.
San Francisco Fringe Festival: Until September 17. Free – $18. Exit Theater, 156 Eddy St., SF 415-931-1094. www.theexit.org