The organizer promises "a safe and fun event that offers the full and real experience of the festival"
Reviews and recommendations are unbiased and products are independently selected. Postmedia may earn an affiliate commission on purchases made through links on this page.
Content of the article
Send in the clowns – and everyone else, for that matter! The Works Art & Design Festival and the Edmonton International Street Performers Festival aren't just returning this summer, they're doing it together as a hybrid superfest.
Content of the article
Thanks to years of construction and a little something called 'the pandemic', it's also the first time either festival will look normal in Churchill Square since 2017.
Free and accessible to all, the joint festivals – each retaining its own name – take place from July 8 to 17, taking the usual place of the busker festival on the calendar.
"I'm so happy to be able to have a good collaborative working relationship with them," Amber Rooke, longtime Executive Artistic Director of The Works, said of the Edmonton International Festival of Street Artists—StreetFest for short. "It's a blessing.
"We are thrilled to welcome audiences back to downtown for a safe and fun event that offers the full, real-life festival experience," notes Rooke. "Addressing the challenges of 2022, we are collaborating to deliver the expansive program we have all dreamed of."
Content of the article
For the past two years, in the often dark times of social distancing, StreetFest has operated as a series of neighborhood parades. The works, meanwhile, took place on the grounds of the Legislature in 2018 and 2019, then – returning to Churchill Square last summer – had a scaled-down, pandemic existence: art installations only, without the usual stage programming and uplifting.
This year's festival will have it all, including art and design tents, rotating street performers (literally), music and comedy on the big stage, doorways to The Calling Card art of The Works and, of course, food trucks galore.
Rooke notes that this happy collision will allow StreetFest to try new things on The Works stage, explaining: "Because it's an infrastructure that they don't normally have, they will also be doing some of the programming for the scene."
Content of the article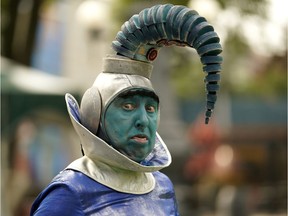 "It feels like a natural collaboration," says StreetFest executive director Paul Bezaire, noting that both festivals aim to break down perceived or unperceived barriers in the art and performance they present. "Fine art takes place in galleries, live performances in theaters and halls.
"StreetFest and The Works both aim to engage our audiences where they are," says Bezaire, "and present the best in the world with no admission fees, turning theaters and galleries upside down."
We'll go back and take a more detailed dive into what it all looks like closer to the date, but mark your calendars – StreetFest and The Works are back.
@fisheyefoto